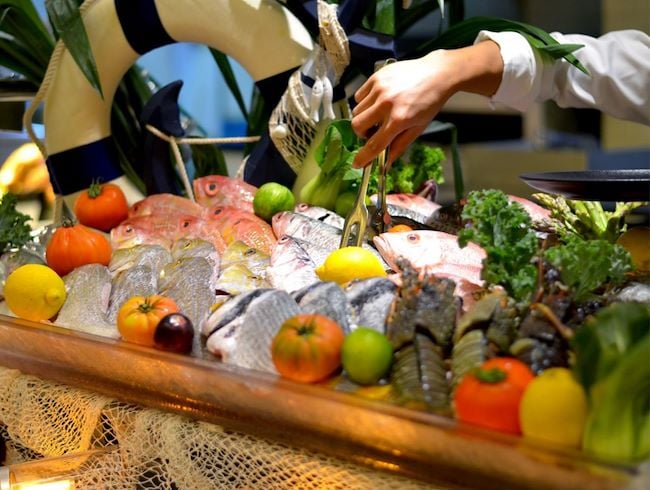 Journey Around the World
Take your discerning palates into a culinary journey and spectacle through the wonderful world of flavors at The Terrace on the Corniche. Delight yourselves with an expansive selection of signature dishes and distinctive tastes inspired by the varied culture, spices and aromas every country has to offer.
Travel through the "Urban Streets" of famous capital cities and taste their famous mouthwatering street food every Wednesday. Taste the all-time favorites like British fish 'n chips, German currywurst, Indonesian satays, American-style black bun burgers, and more.
Discover the intriguing taste of Umami every Thursday with "Asianture". Journey to Japan, Thailand, Vietnam, India, and Indonesia through a curated menu and multiple live stations of signature curries, stir-fries, rice dishes, salads.
The "Ocean's Table" every Friday will satisfy your cravings for the distinctive and delicate flavors of the sea. Featuring a fish market-inspired live station, choose from an expansive selection of fresh seafood to be prepared by our culinary team as per your liking.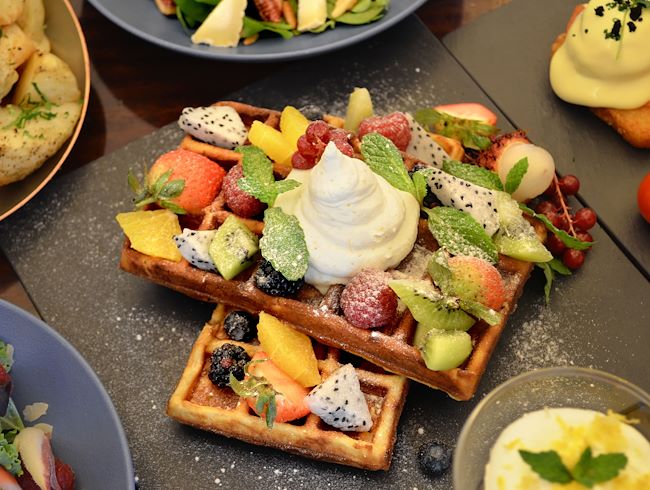 Social Sunday Breakfast
Socialize on a lazy Sunday morning and savor into flavorful recipes thoughtfully compiled by Executive Chef Joseph Murphy. 'Social Sunday Breakfast' offers an exquisite long-hour breakfast from 7:00 AM until 3:00 PM at the lively ambiance of Terrace on the Corniche.
Showcasing an extensive selection of hearty food such as fluffy fresh pancakes, home-baked pastries, chicken waffle sandwich, classic English toad in the hole, grilled striploin steak, roasted prime rib beef with roasted root vegetables and many more flavorful culinary creations curated to uplift every diner's mood.
Discover the decadent dessert collections passionately prepared by our pastry team and enjoy the unlimited creative beverages such as fresh juices, smoothies and detoxifying concoctions readily delivered to your table.
Sundays, from 7:00 AM - 3:00 PM
AED 175 per person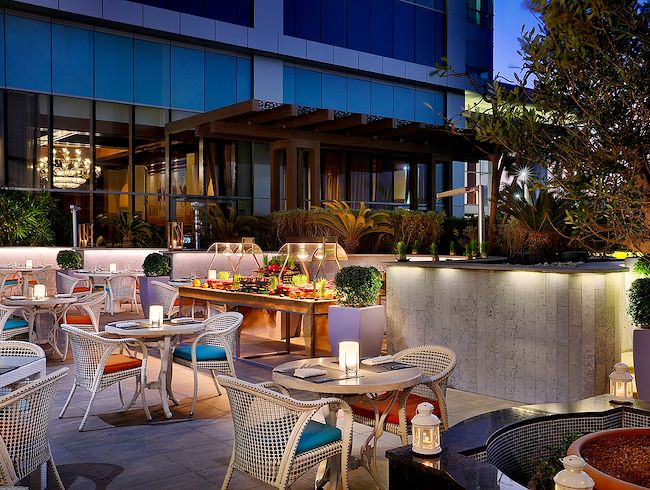 Blissful Eid Festivity
Honor Eid al-Adha tradition in the lively ambiance of The Terrace on the Corniche.
Indulge your senses with the extensive authentic culinary creations, such as Moroccan tagine, lamb ouzi, Lebanese mixed grill, and many more refined traditional recipes.
Sample into decadent sweet treats and sip into refreshing beverages, all prepared by our culinary team to complete your unforgettable Eid festivity at The Terrace on The Corniche.
Saturday, 9th July to Sunday, 10th July 2022.
From 7:00 PM to 11:00 PM.
AED 220 per adult
AED 110 per kids (from 6 to 12 years old)